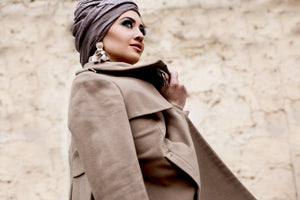 Fashion-Forward Fall Outfits for the Modest Muslim Woman
October is here and blowing its pumpkin-spiced winds our way— letting us know that it's time to put away our summer threads and bring out our boots and scarves. 
As far as dressing up modestly for the autumn season, it's much easier to do so this season in a hijab than it is in the hot months of summer. 
Even so, here are a few tips for out modest hijabi readers to help keep your wardrobe fashion forward this fall. 
Sweater Dresses
The original sweater dress typically comes in a length not-so-suitable for the average hijabi woman. However, there have been many maxi-length variations saturating retail stores as of late, which are perfect for women looking for that effortlessly stylish, loose-fitting option. 
Oversized Blazers
This is a fashion staple that made a big splash a few years back and that has stuck around for the last several fall and winter seasons.
Whether it's a black leather blazer or a whimsical, patterned blazer; this piece will elevate an otherwise simple outfit into an effortless cool, sophisticated look. 
Berets & Hijabs
If you think you can't wear hats because of the mere fact that your head is already covered by a hijab, we're here to tell you you're wrong. 
Layering a beret on top of your signature hijab style adds that fall "pop" to your outfit.  
---