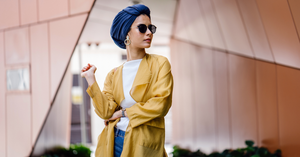 What Does it Mean To Dress Modestly?
The Definition of Modern, Modest Dress 
In our modern times, dressing modestly is seen as symbolizing many things, such as:
Prudishness 

Conservatism 

Religion 

Uptightness 

Repression

Enslavement 
We think that this line of thinking is narrow-minded and limiting— there is so much more to dressing modestly than meets the standard, mainstream eye that judges women's fashion and style. 
Modest dress adds— it doesn't take away. 
Dressing modestly benefits women in that it refocuses society's gaze away from the dehumanization of seeing women as defined by the appearance of certain body parts. Instead, your outfit is seen for what it is— an outfit that is worn for the purpose of everyday living. 
Additionally, dressing modestly gives women the freedom to be perceived beyond their physical appearance and for their mind and heart instead. 
How To Put Together a Modest Outfit 
Dressing modestly doesn't have to translate to drab, uninteresting clothing choices. Dressing modestly and dressing stylishly are not mutually exclusive. When done right, dressing modestly exudes style and elegance. 
We recommend shopping for classic pieces that never go out of style— maxi dresses with beautiful prints, cashmere sweaters, etc. 
Another thing to keep in mind is that you make sure to have clothes and outfits ready for any occasion or activity— whether formal or casual or athletic. 
---